MA-1 Flight Jacket Size Chart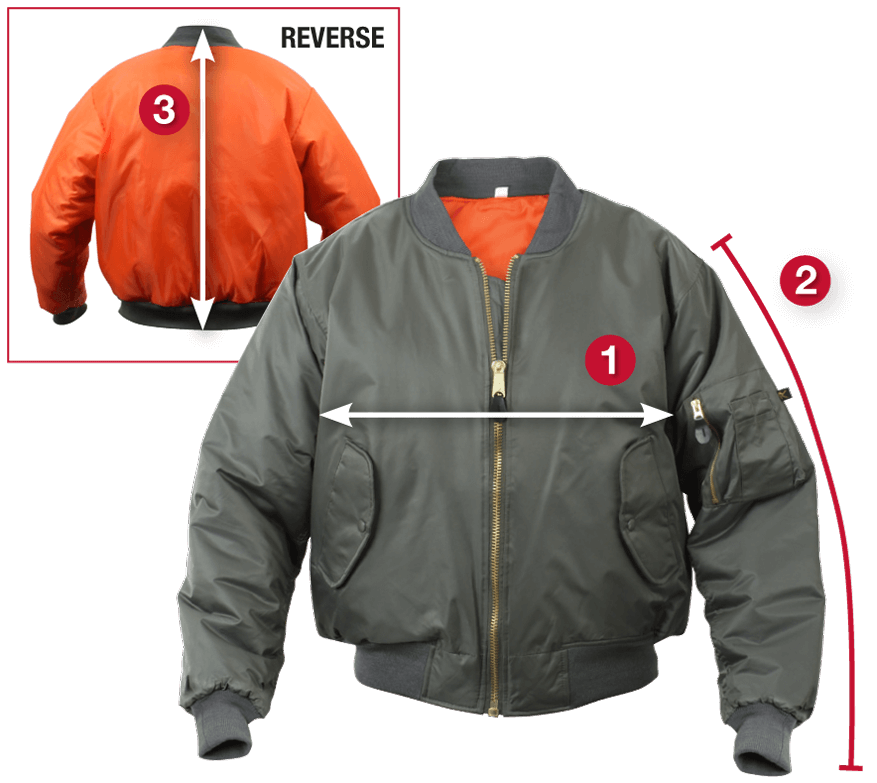 MA-1 Flight Jacket features a fully reversible orange lining, ribbed collar, 100% nylon water repellent outer shell, poly fiberfill lining and 4 front slash pockets. The classic military style flight jacket has an extra full cut.
*Sizes may vary from individual garments as material can vary slightly when manufactured.
| | | | |
| --- | --- | --- | --- |
| Sizes   | 1. Chest (Inches)* | 2. Sleeve Length (Inches) | 3. Back (Inches) |
| XXS | 24 | 23¼ | 24 |
| XS | 24¾ | 25 | 25½ |
| S | 26¾ | 25½ | 26 |
| M | 27½ | 26½ | 26½ |
| L | 28¼ | 27¼ | 27½ |
| XL | 29 | 27 | 28½ |
| 2XL | 29¾ | 28¾ | 28¾ |
| 3XL | 30½ | 29½ | 29¼ |
| 4XL | 30¼ | 30¼ | 30¾ |
| 5XL | 31¼ | 31 | 31½ |
| 6XL | 32 | 32 | 32¼ |
| 7XL | 32½ | 32¾ | 33 |
| 8XL | 33½ | 33½ | 33¾ |
*Chest width is measured armpit to armpit